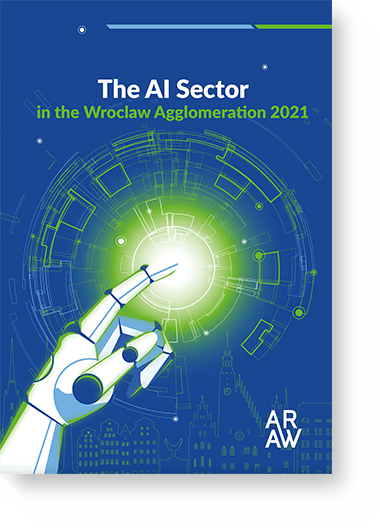 Artificial intelligence is a technology used both in innovative business and by each of us in everyday life. It is developing very rapidly and it is used in a variety of industries, such as medicine, marketing and industry. According to reports on AI prepared by the Digital Poland foundation 85 of the companies surveyed are located in the six largest Polish cities, including in the capital of Lower Silesia. On the other hand, in the study for the report on the local IT sector prepared by the Wroclaw Agglomeration Development Agency, companies, regardless of their size, frequently indicated artificial intelligence as a path for the development of their activities.
The significant presence of Wroclaw on the Polish map of artificial intelligence prompted an in-depth analysis of the local sector, which resulted in the report prepared by the Wroclaw Agglomeration Development Agency, "AI sector in the Wroclaw agglomeration 2021", published on September 2, 2021. The purpose of the publication was to describe Wroclaw in relation to AI technology, companies producing solutions based on artificial intelligence and their clients, directions of business development, financing research and development projects and specialists on the labor market, as well as the educational offer of Wroclaw.
The report was prepared by the Wroclaw Agglomeration Development Agency. The content partners of the publication are: ITCorner, SoDA, ABSL. Strategic partners are: SDZLEGAL SCHINDHELM, Randstad and JLL. The publication's partner is the City of Wroclaw as part of the project: "Przedsiębiorczy Wrocław".
Download report